Many people are aware of Walt Disney's efforts in producing multiple theme parks, an extensive collection of hit movies, and famous characters that continue to live on in our imaginations. However, he also designed and developed an entire community in the Sunshine State, known as Celebration, Florida.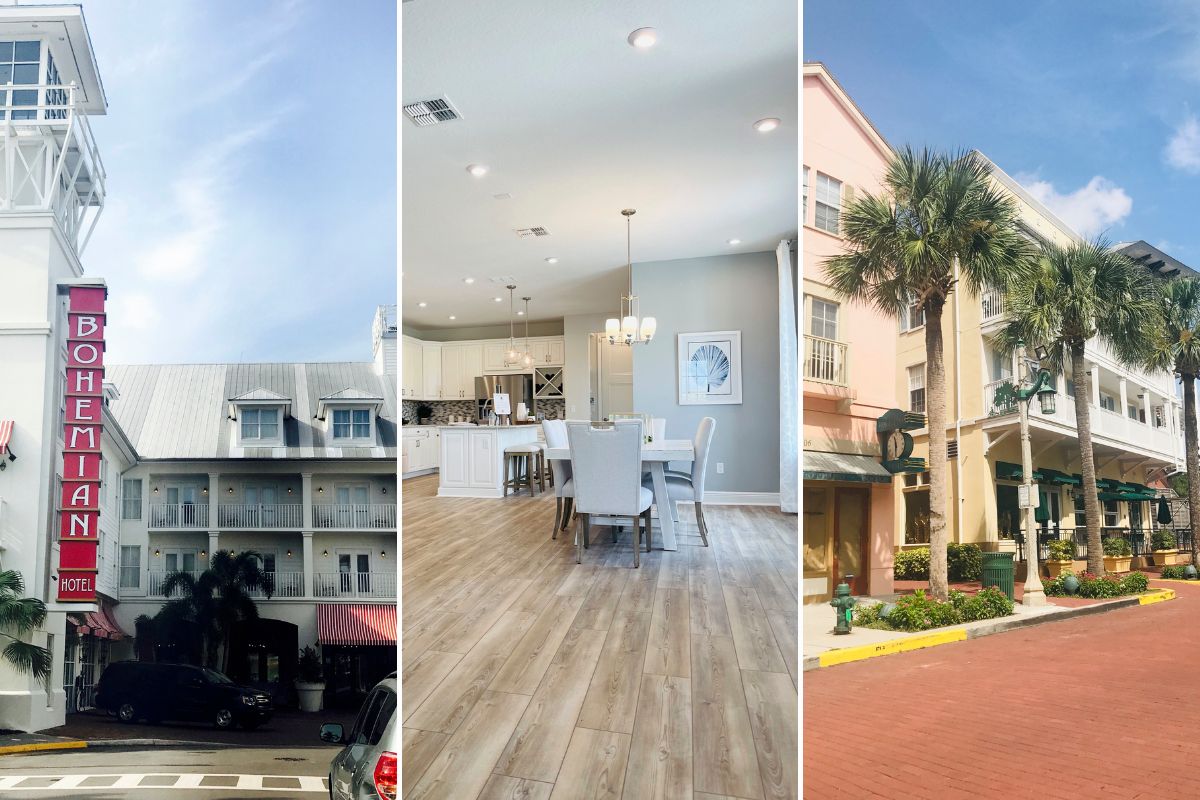 Where is Celebration, Florida located?
This small town lies on the outskirts of downtown Orlando, in the southwestern area. The neighborhood is revered for its green spaces, stunning homes, many annual events, and high quality of life for its residents. Within this community lie some of the best schools, restaurants, and shops in the Orlando area.
Though it is close to top attractions, like Universal and Walt Disney World Resorts, Celebration provides a comfortable, homey appeal to residents and visitors alike. Individuals, couples, and families will all find suitable amenities by visiting and living in this charming Florida town.
Get to know Orlando by checking out these other community guides:
Moving or investing in Orlando is easy when working with Nicole Mickle. She provides a turn-key solution for those seeking the ideal place for their perfect lifestyle.
History of Celebration, Florida
Celebration is a newer community that was founded in 1996. It was created as a master-planned community under "New Urbanism." It was initially called "Disney's Town of Celebration," although it's not quite a town.
This Osceola County neighborhood was originally purchased in the 1960s in secret by the Walt Disney Company as part of a 27,000-acre purchase that would later become Disney World. However, when building other park areas in the 80s and 90s, the company decided that the section that would later become Celebration was unnecessary for growth.
Half of the 4,900 acres of Celebration was left to conservation, mirroring the design of Walt Disney World. The other half was converted into a "town," which was announced to the public in 1991. What makes the town stand out is its uniformity, which was a necessary part of developing Celebration. Walt Disney wanted every home to have a porch in the front and parking in the back, regardless of who built them.
In true Disney fashion, a public lottery was held to determine who would get to live in Celebration first. Finally, the first family moved into the community on June 18, 1996. The town was completed in 1996, with November 12 marked as "Founder's Day," coinciding with the finished downtown area.
The "town" is split into ten villages interconnected via walking/biking trails and bridges. While the Walt Disney Company no longer owns the community, Walt is still associated with Celebration.
Celebration News
New and exciting things are coming to this charming community, including the Celebration Hall project. This project, nicknamed Celebration 2.0, includes turning the Celebration Theatre into a performing arts center and the new town hall location. There will also be the addition of a pickleball court and croquet area in Spring Park. All of these additions and updates are meant to revamp the community.
Best Things to Do in Celebration, FL
Every section of Celebration is teeming with exciting things to check out, restaurants to try, and plenty of shopping opportunities. For example, Market Street has cute boutiques and restaurants with sidewalk tables. Or, you can explore Front Street, which offers lake views, café bars, and must-try eateries.
Parks in Celebration
This thriving community is packed with village parks, ensuring anyone who is a fan of outdoor activities can enjoy nature. Since the community is interconnected, residents of the villages can use other villages' amenities (including parks). There are two exceptions to this, the Artisan Clubhouse and Pool are only available to those living in Artisan Park.
The available parks include playgrounds, sports fields, shaded benches, rocking chairs, and more, depending on which option you visit. A dog park is available for those who want a spot to take their furry friends.
A few park options in the community include:
Spring Park
East Crescent Park
Water Street Park
Spring Lake Park
Biking and Walking Trails in Celebration
Several trail options exist within the community, all of which can be traversed via foot, bicycle, rollerblade, or Segway. The trails vary in distance, ranging from 0.4 to 5.2 miles, making selecting a route that fits your needs easy. You can use them to travel between the town centre, tennis courts, and even to accommodations like the Bohemian Hotel Celebration. If you don't have a bike, you can check out rentals at the Celebration Bike Rental shop.
Some trail options in Celebration include:
Spring Park Trail
High School Loop
Aquila Loop
North Village Loop
Celebration Health Loop
Places to Eat in Celebration
Even though Celebration is not officially a "town," it has various culinary options, including Italian, American, Japanese, Irish, and other choices. These restaurants range in pricing, ensuring there is something for every budget within the community. You'll also find plenty of options for various diets, whether you're an omnivore, vegetarian, vegan, or gluten-free eater.
Below, you'll find some of the top restaurant choices in Celebration.
Upper Crust Pizza
You won't have to look far if you're craving a slice of New York-style pizza. Upper Crust Pizza is well-known as a top pizza joint in the community. Bonus – this restaurant has budget-friendly options and is open seven days a week! Pizza, wings, stuffed calzones, and more are on the menu. They also offer takeaway, so you can get your slices to go!
Address: 606 Market St #160, Celebration, FL 34747
Columbia Restaurant
This eatery overlooks the lake, providing stunning views as you enjoy Spanish Cuban cuisine. Columbia Restaurant has an elegant feel and plenty of covered outdoor seating, so you can enjoy the weather during a visit. Expect options like salads, sandwiches, and tapas on the menu. They also have options for vegans, vegetarians, and those who are gluten-free.
Address: 649 Front St, Celebration, FL 34747
La Luce
La Luce is tucked away in the Signia by Hilton hotel in Orlando. This Italian restaurant boasts house-made pasta crafted by a famous Napa Valley Chef. Thin crust pizzas and Mediterranean- inspired drinks are also available here. They're only open for dinner, so it's best to make a reservation to ensure you get a chance to try this eatery while in town.
Address: 14100 Bonnet Creek Resort Ln, Orlando, FL 32821
Market Street Café
Open for breakfast, lunch, and dinner, this café in Celebration is a local favorite. You'll find sandwiches, pancakes, soups, salads, burgers, and more on the menu. If you're unsure what to order at Market Street Café, try their blueberry pancakes – they're a customer favorite. If you're traveling with kids, you'll want to stop by on Thursday night, as kids eat for free.
Address: 701 Front Street, Celebration, FL 34747
Ari Sushi
If you're a sushi lover, you'll want to stop by Ari Sushi for a meal. This restaurant has fun roll options, including lobster tempura and samurai rolls. They also have Korean dishes if you prefer options like kalbi (Korean short ribs) or bibimbap (hot rice bowl).
Address: 671 Front St, Celebration, FL 34747
Imperium Food & Wine
Wine lovers will want to make an effort to visit Imperium Food & Wine, a wine bar that serves international bites. Expect everything from cheeseburgers to BBQ and Asian-inspired sandwiches on the menu. This location has great wine pairings that go well with its food offerings. It's a great spot for date night or girls' night out. Plus, there is usually live music on the weekends.
Address: 606 Market St, Celebration, FL 34747
Thai Thani Celebration
Nearby Imperium Food & Wine, you'll find Thai Thani Celebration, a delicious Thai food option. With a long list of food options, there's sure to be something for everyone here. There's even a large selection of vegan starters and entrees, so those who don't eat meat can indulge in a meal here. The papaya salad and green curry come highly recommended from this eatery.
Address: 600 Market St #110, Celebration, FL 34747
Where to Stay
Over 100 hotels lie in and around Celebration, FL, making selecting accommodations that fit your needs easy. The available hotels range in pricing from budget-friendly to mid-tier and higher-end choices.
Below are a few hotels in Celebration that you can book during a visit.
Celebration Hotel
This 4-star hotel is on the pricier side, though it's a good option if you want a more luxurious stay. This boutique hotel is part of the Marriott chain and lies nearby Disney Springs. Celebration Hotel is a lakeside retreat with many hiking and biking trails nearby. It's also a pet-friendly hotel, so you can bring your furry friends along. Amenities include an onsite bar and grill and a beautiful outdoor pool.
Address: 700 Bloom St, Celebration, FL 34747
Fairfield Inn & Suites by Marriott
Another Marriott hotel, the Fairfield Inn & Suites, is a great option for those who want a more affordable stay. It's also a Walt Disney World Good Neighbor®, so it's only three miles from the parks, shows, and rides at Walt Disney World. Complimentary breakfast is served daily here. You can also utilize the outdoor pool and onsite fitness center during your stay.
Address: 6073 W Irlo Bronson Memorial Hwy, Kissimmee, FL 34747
Melia Orlando Celebration
The Melia Orlando Celebration hotel is another swanky 4-star accommodation in the community. It sits next to the Walt Disney theme parks, making it an excellent option for families. It's also packed with amenities like an infinity pool, a spa, a fitness center, and an onsite restaurant serving coastal cuisine. Dogs are also allowed at this accommodation.
Address: 225 Celebration Pl, Celebration, FL 34747
Delta Hotels by Marriott Orlando Celebration
This 4-star Marriott hotel is more affordable, so you can enjoy a luxurious stay without going over budget. It's set on 20 acres of gardens, providing a relaxing getaway from the busy theme parks nearby. Delta Hotels by Marriott Orlando Celebration also offers free shuttles to Universal Orlando and Walt Disney World for those who choose to stay here. Other amenities include pools, a waterslide, and garden paths.
Address: 2900 Parkway Blvd, Kissimmee, FL 34747
Schools
This community has an excellent selection of schools which range from public to private and even preparatory schools. You'll find elementary, middle, and high school options for your kids. Once they graduate, there are even a few universities and specialized schools in the area, including a film academy and a school for real estate.
Below are some of the available schools in Celebration, FL:
Daycares
There are also many daycares in Celebration and surrounding areas, making it a great area for couples who plan on having kids. Options for in-home child care are also available in the area.
Here are a few of the daycare options in Celebration, FL:
Hospitals
Multiple hospitals are located within the community, including a children's hospital, a hospital for women's health, and one focusing on surgeries. If you need hospital care, you won't need to travel far to reach one of the available options.
Below, you'll find some of the hospital choices in Celebration:
Florida Hospital Celebration Health
Celebration Family Care
Long-Term Care/Senior Care
Celebration has two long-term/senior care options: one is a nursing home, and the other is an assisted living facility. Other long-term and senior care options lie outside the community.
The below options are available in the Celebration, FL neighborhood:
Local Grocery Stores in Celebration, Florida
A good number of grocery stores exist in Celebration and nearby towns, with most being larger brand-name shops. Publix, Goodies, and 7-Eleven are a few spots within the community where you can purchase grocery items and food. On Sundays, Celebration hosts a farmers market in the Celebration Town Center, which includes fresh produce, baked goods to satisfy your sweet tooth, crafts, and other miscellaneous goods. It is open weekly from 10 am to 2 pm.
Ready to Move to Celebration?
With its peaceful, charming atmosphere, unique history, top-tier schools, fantastic restaurants, and a long list of amenities, Celebration, Florida is an excellent place to put down some roots. Whether you're an individual, a couple ready to start a family, or a family with kids, Celebration's peaceful atmosphere provides an ideal living situation.
As an Orlando local and experienced real estate agent, I can help pair you with the perfect home! Contact me to learn more.