Tucked away in southwest Orange County near the Horizon West neighborhood is an unincorporated community with a unique name – Dr. Phillips, Florida. This community has been named one of the best places to live by Time's Money Magazine. It features impressive homes and gated communities, which create a border around the community's commercial hub.
The Doctor Phillips neighborhood lies near many of the top Orlando area attractions, including International Drive and Walt Disney World Resorts. Even with its proximity to major attractions, the community has lakes and an interstate that separates Dr. Phillips from other neighborhoods offering an escape from the busyness of downtown Orlando.
This neighborhood covers about five square miles of land and has many shops, bars, restaurants, golf clubs, and other offerings. It's also conveniently located about 17 minutes from the Orlando International Airport. Below, you'll find a complete Dr. Phillips neighborhood guide which includes what to do, where to eat, where to stay, and more.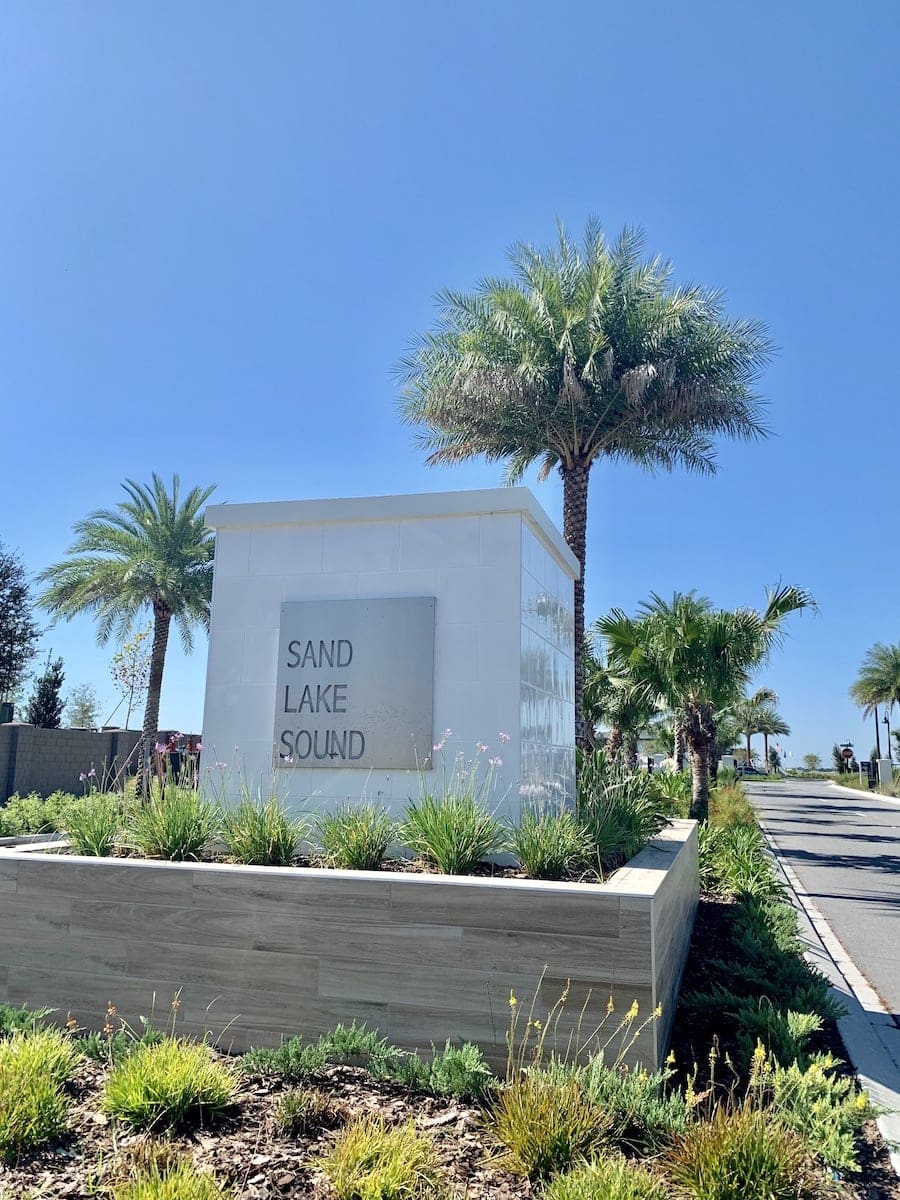 The Story of Dr. Phillips
This neighborhood's unique name is based on Dr. Phillips Phillips, a central Florida citrus magnate, who purchased 5,000 acres of citrus groves. He is well-known for creating new techniques that helped process and package orange juice.
His land covered nine central Florida counties, beginning at Conroy Road and ending at Sand Lake Chain of Lakes to the south. The land Dr. Phillips owned eventually became the community named after him, even though he sold it in the 1950s.
This neighborhood has continued to expand primarily due to its proximity to Orlando and major attractions. This welcoming neighborhood now has a fairly large population of 11,000+, comparable to many Florida cities. It is split further into communities which include Bay View, Sand Lake Hills, and Bay Ridge.
Dr. Phillips, Florida News
The community is constantly changing, with many exciting projects on the way for residents in 2023. A total of 17 projects are currently in the works, which include new schools, homes, and more. In South Dr. Phillips, the Ruby Lake project is underway. This project consists of creating 236 single-family homes which sit around a lake. Additional projects for the southern part of the neighborhood include a potential preschool and high school. Though, these projects have no current end date.
Northern Dr. Phillips has additional single-family homes in the works, along with additional restaurant and retail space. Central Dr. Phillips is working on three residential projects creating single-family units. Other projects in the community include an additional hotel, timeshare units, and hotel expansion.
Best Things to do in Dr. Phillips
This affluent suburb has nearly every activity, from kid-friendly parks to relaxing spas, yoga studios, movie theaters, and more. Regardless of the types of activities visitors and locals enjoy, there are sure to be plenty of entertainment options in this community.
Parks in Dr. Phillips
The Dr. Phillips neighborhood has one major park, the Dr. P. Phillips Community Park. This park is a newer offering situated on Big Sand Lake. It includes many exciting amenities, including a splash pad, playground, volleyball courts, picnic area, and walking trails. Additionally, a dog park is located here, so you can bring your furry friend. The dog park includes small pools and hoses to help dogs stay cool in the summer. If you travel slightly outside of the neighborhood, you'll find Turkey Lake Park, which has additional activities available.
Address: 8249 Buenavista Woods Orlando, FL 32837
Biking/Walking Trails in Dr. Phillips
Below, you'll find details on the community's available biking and walking trails.
Dr. P. Phillips Community Park
The trails run in and around the park and are great for walking and biking. The trails within the park offer views of the amenities as they take you along the splash pads, picnic area, and more. Another trail runs on the park's outskirts and is a short, 0.6-mile trek.
Longhorn Trail Loop
This trail also runs along the community park, offering easy access to the park's many activities. This loop is a total of 0.9 miles and features many benches, making it an easy route for various fitness levels.
Places to Eat in Dr. Phillips
Whether you prefer affordable, family-friendly restaurants or higher-end steakhouses, Dr. Phillips is full of culinary options. Two primary areas within the neighborhood house some of the best restaurants – Sand Lake Road and Dr. Phillips Boulevard. Those interested in budget-friendly choices should visit Sand Lake Road, also known as "Restaurant Row." More elegant fare is found on Dr. Phillips Boulevard.
The following restaurants are some of the best local offerings in the community.
Bartaco
Bartaco offers delicious, elevated street tacos in a fun, relaxed environment. It features décor inspired by the beachy atmosphere of California, Brazil, and Uruguay. The menu includes fun taco ingredients, such as roasted duck and sesame ribeye. This restaurant also has non-taco offerings, including soup, salad, rice bowls, and mouth-watering desserts (like tres leches).
Address: 7600 Dr. Phillips Blvd Suite 28, Orlando, FL 32819
Slate
This local favorite is tucked inside the same building as Trader Joe's. It features delicious modern American cuisine in an aesthetically pleasing setting with an open kitchen. Menu items at this eatery include spinach ravioli and wagyu burgers. Sunday through Thursday, Slate has a Happy Hour which runs from 4:30-6:30 pm. The Happy Hour menu includes fun cocktails, local beers, and tasty bites. It's an ideal location for date night or girls' night out.
Address: 8323 W Sand Lake Rd, Orlando, FL 32819
La Café de Paris
La Café de Paris is a must-try in Dr. Phillips if you're craving French cuisine and a cozy atmosphere. This couple-run restaurant has been serving customers since 2007. You'll find classic French dishes on the menu, like croque monsieur. They also have tasty coffee options, breakfast choices, and vegetarian dishes available.
Address: 5170 Dr. Phillips Blvd, Orlando, FL 32819
The Whiskey
Check out The Whiskey for burgers with fun toppings, whiskey-centric craft cocktails, a great atmosphere, and live music daily. This restaurant also features an eclectic offering of appetizers, such as whiskey chips and bangin' shrimp.
Address: 7563 W Sand Lake Road, Orlando, FL 32819
Peperoncino
This tucked-away local favorite features delicious, authentic Italian food in an intimate setting. A selection of housemade pasta dishes is available, with everything (including the pasta) made from scratch. Cacio e pepe and puttanesca pasta are two must-try dishes here. Don't forget to check out the desserts and dessert wine list; they're a perfect way to end the meal at Peperoncino.
Address: 7988 Via Dellagio Way #108, Orlando, FL 32819
Lisbon Portuguese Cuisine
Dr. Phillips has plenty of ethnic options, including Lisbon Portuguese Cuisine. This restaurant focuses on authentic Portuguese dishes, all crafted by head chef and owner Rui Borges. The unique décor is reminiscent of Azores, the Portugal region where Borges grew up. The menu includes items like bife na pedra (stone-cooked steak) and peito de frango (a chicken breast dish).
Address: 7600 Dr. Phillips Blvd #12, Orlando, FL 32819
Christinis Ristorante Italiano
Nearby Lisbon Portuguese Cuisine, you'll find Christinis Ristorante Italiano. This upscale restaurant serves traditional Italian dishes in an elegant setting. Tasty items such as gnocchi Bolognese and chicken piccata are on the menu. You may even catch a glimpse of a celebrity during a visit, as many have visited this eatery before
Address: 7600 Dr. Phillips Blvd, Orlando, FL 32819
Dragonfly Robata Grill & Sushi
This Japanese bar serves a delicious assortment of Japanese pub food. The chic atmosphere and cozy indoor and outdoor seating areas create a laidback yet elegant vibe. Menu items at Dragonfly Robata Grill & Sushi include sushi rolls, protein skewer choices, soups, and more. The sake is a must-try while at this restaurant.
Address: 7972 Via Dellagio Way, Orlando, FL 32819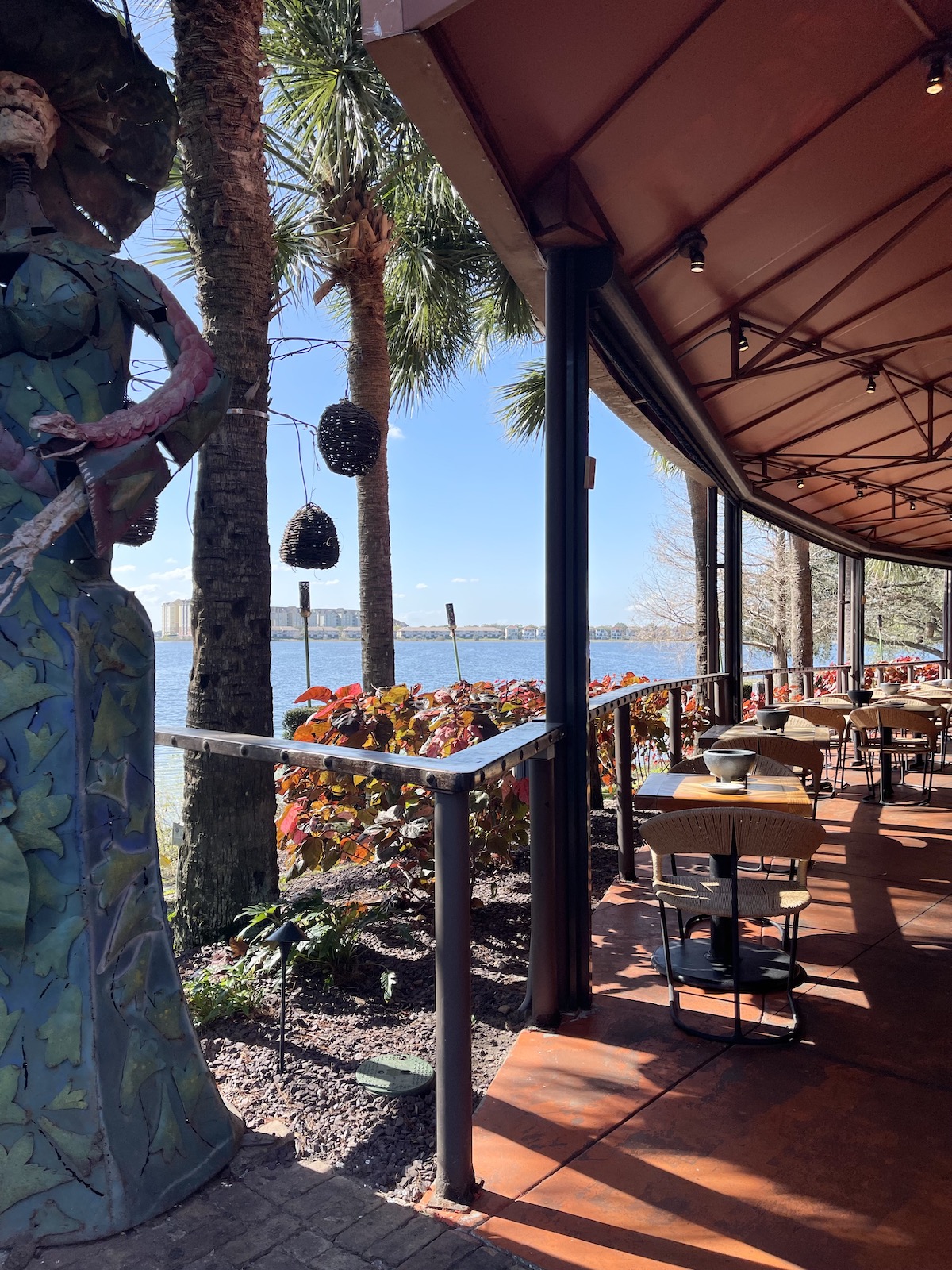 Rocco's Tacos & Tequila Bar
Tacos and margaritas with a view of Little Sand Beach!
Address: 7468 W Sand Lake Rd, Orlando, FL 32819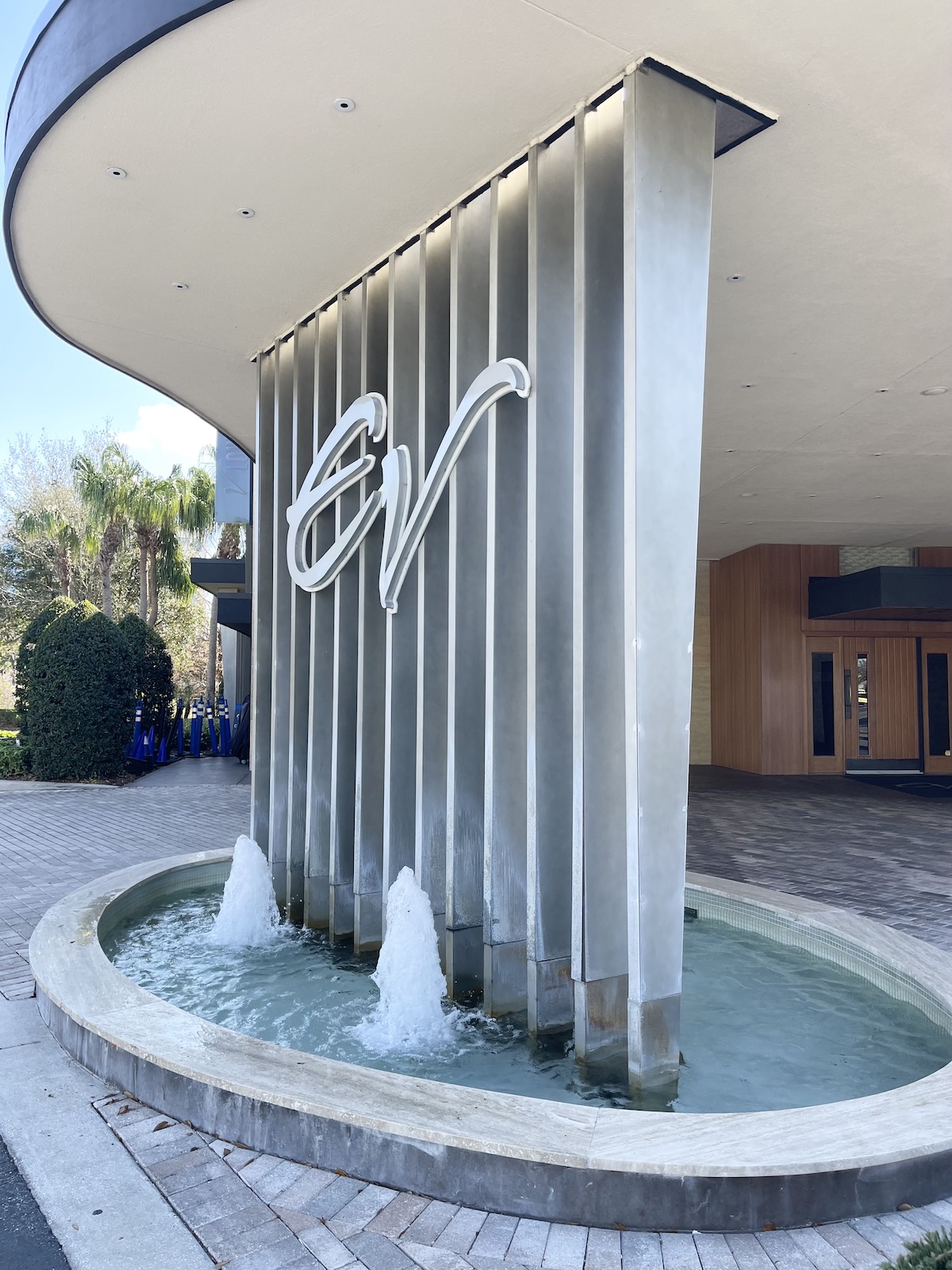 Eddie V's Prime Seafood
Eddie V's is the place to go if you're in the mood for exquisite seafood in an upscale restaurant.
Address: 7488 W Sand Lake Rd, Orlando, FL 32819
Places to Stay in Dr. Phillips
While many people own their homes in this community, there are ample hotel and accommodation options for visitors. Below, you'll find top choices for those interested in staying in Dr. Phillips.
DoubleTree by Hilton at the Entrance to Universal Orlando
If you're planning on visiting Orlando for the theme parks, you'll want to consider booking a room at DoubleTree by Hilton at the Entrance to Universal Orlando. You can easily walk to the theme park from this accommodation. It includes amenities like free WiFi, pet-friendly rooms, a pool, an onsite gym, and a business center.
Address: 5780 Major Blvd., Orlando, Florida, 32819, USA
Rosen Inn Lake Buena Vista
This hotel is an official Walt Disney World Good Neighbor® Hotel, making it easy and convenient to get to the nearby theme parks via a complimentary shuttle. Each room at the Rosen Inn Lake Buena Vista features a comfortable bed with a pillowtop mattress, large flat screen TV, microwave, mini fridge, and more. Other amenities include two onsite restaurants, two heated pools, an arcade game room, an outdoor playground, and more.
Address: 8442 Palm Pkwy, Orlando, FL 32836
Universal's Cabana Bay Beach Resort
Universal's Cabana Bay Beach Resort is a 3-star hotel with a fun retro 1950s/1960s style décor. This accommodation is ideal for those with larger families or friend groups, as the rooms are very spacious. Complimentary shuttles are available to get around the resort and take you to Universal Studios Florida. There's a food court onsite, making it easy to accommodate even the pickiest eaters in the group. A winding river, bowling alley, and two pools are also found at this hotel.
Address: 6550 Adventure Way, Orlando, FL 32819
Grande Villas Resort
Those who enjoy feeling at home when away from home will find Grande Villas Resort a great option. This resort hotel has spacious suites with the option of selecting 1, 2, or 3 beds. Depending on the room size chosen, each room can hold 2-8 people. Additionally, this resort is nearby Walt Disney World. Amenities at this hotel include a pool, sports courts, karaoke, gym, hot tub, and mini golf.
Address: 12118 Turtle Cay Cir, Orlando, FL 32836
Avanti Palms Resort and Conference Center
This Orlando resort is packed with onsite amenities, including views of the beautiful Orlando skyline from each guestroom. Amenities include a large pool complex, a gym, onsite dining options, and pet-friendly rooms. A free shuttle can take you to nearby theme parks and shopping centers. The Avanti Palms Resort and Conference Center are also available for events.
Address: 6515 International Dr, Orlando, FL 32819
Schools
Currently, there are 11 schools within the Dr. Phillips neighborhood. These schools are all public, ranging from elementary to high school. Below are a few of the available schools in the area.
Daycares
The Dr. Phillips area has a large selection of daycare and childcare options, with even more available right outside the neighborhood. A few of the available options include the following:
Hospitals
There is one hospital within the community, the Dr. P. Phillips Hospital. It offers 24-hour medical care using advanced technology, including surgery services and diagnostics. This hospital is conveniently located off Highway 4 in the Orlando area. Additional hospitals are found in nearby communities and cities.
Address: 9400 Turkey Lake Rd, Orlando, FL 32819
Senior Care and Long-Term Care Facilities
Whether you or a family member require senior care or long-term care options, Dr. Phillips has plenty of choices. Below are some local options in and around the community, from assisted living to home healthcare options.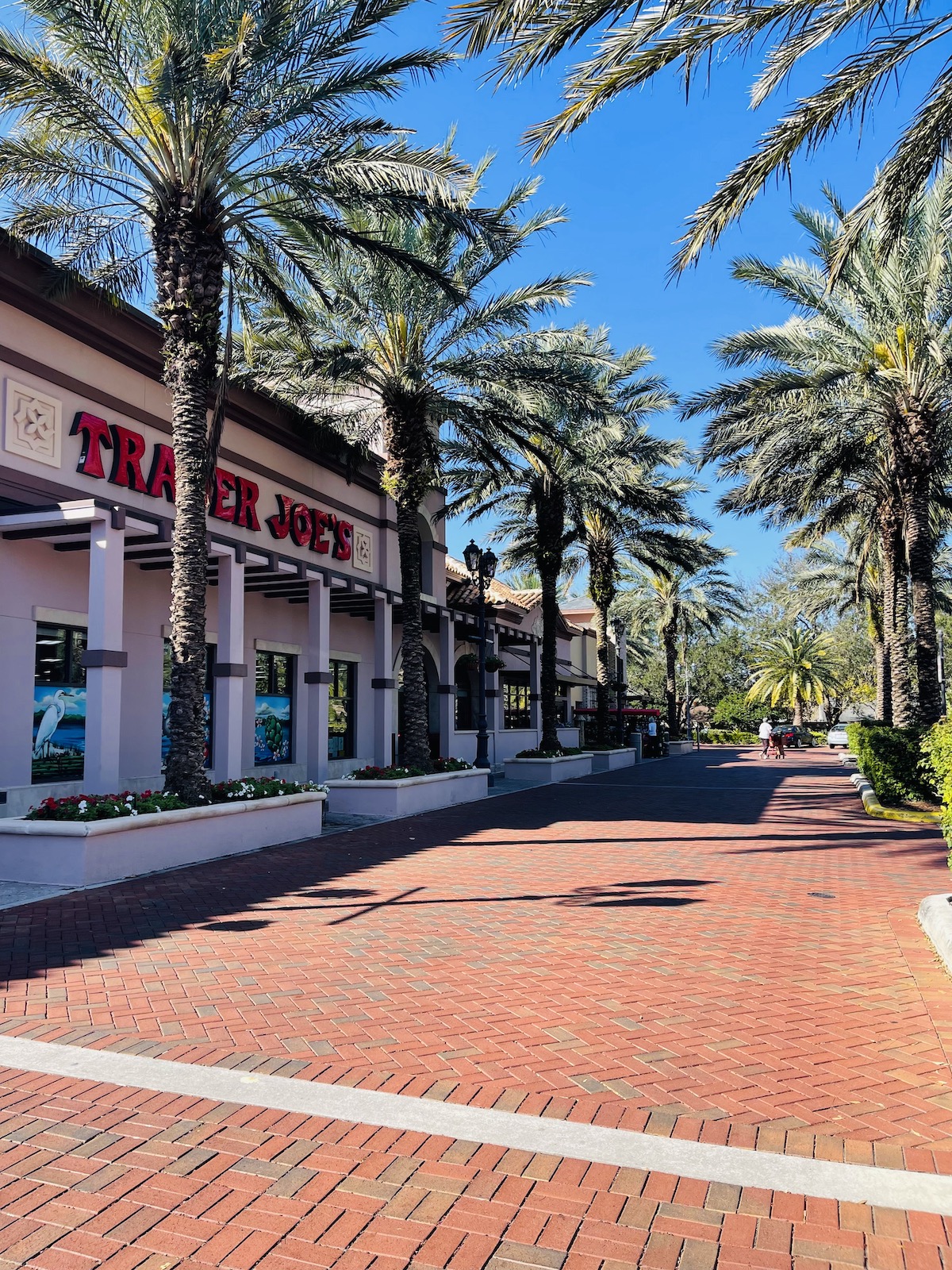 Local Dr. Phillips Grocery Stores
An impressive ten grocery stores lie within and right outside the Dr. Phillips Neighborhood. These grocery stores range from larger name-brand options to smaller chains. Regardless of your weekly grocery budget, there are options to fit your needs.
Below are the available stores in the area:
Publix Super Market at The Marketplace at Dr. Phillips
Publix Super Market at Plaza Venezia
Publix Super Market at The Grove
Whole Foods Market
Trader Joe's
The Fresh Market
Chamberlain's Natural Foods
Wild Fork
Sprouts Farmers Market
Walmart Supercenter
Interested in Moving to Dr. Phillips?
As one of the best neighborhoods in the Orlando area, Dr. Phillips is a safe and entertainment-packed neighborhood. With its vast amenities, activities for all interests, many schooling choices, and fantastic restaurants, Dr. Phillips easily lives up to its title in the Times Money Magazine. As an experienced real estate agent and resident of Florida, I can show you properties within the community that fit your needs. Contact me for more information.