The Milk District is a community in the Orlando area which stretches between a small area west of the Orlando Executive Airport and east of Orlando's downtown. This neighborhood is a cultural hub known for its relaxed atmosphere, colorful street art, restaurants featuring diverse culinary experiences, multiple music venues, an exciting art scene, and unique shopping destinations.
With its proximity to Orlando and many restaurant offerings, this diverse community is a top choice for families, couples, and individuals. Below, you'll find a community guide with everything from what to do to where to eat and stay while in Orlando's Milk District.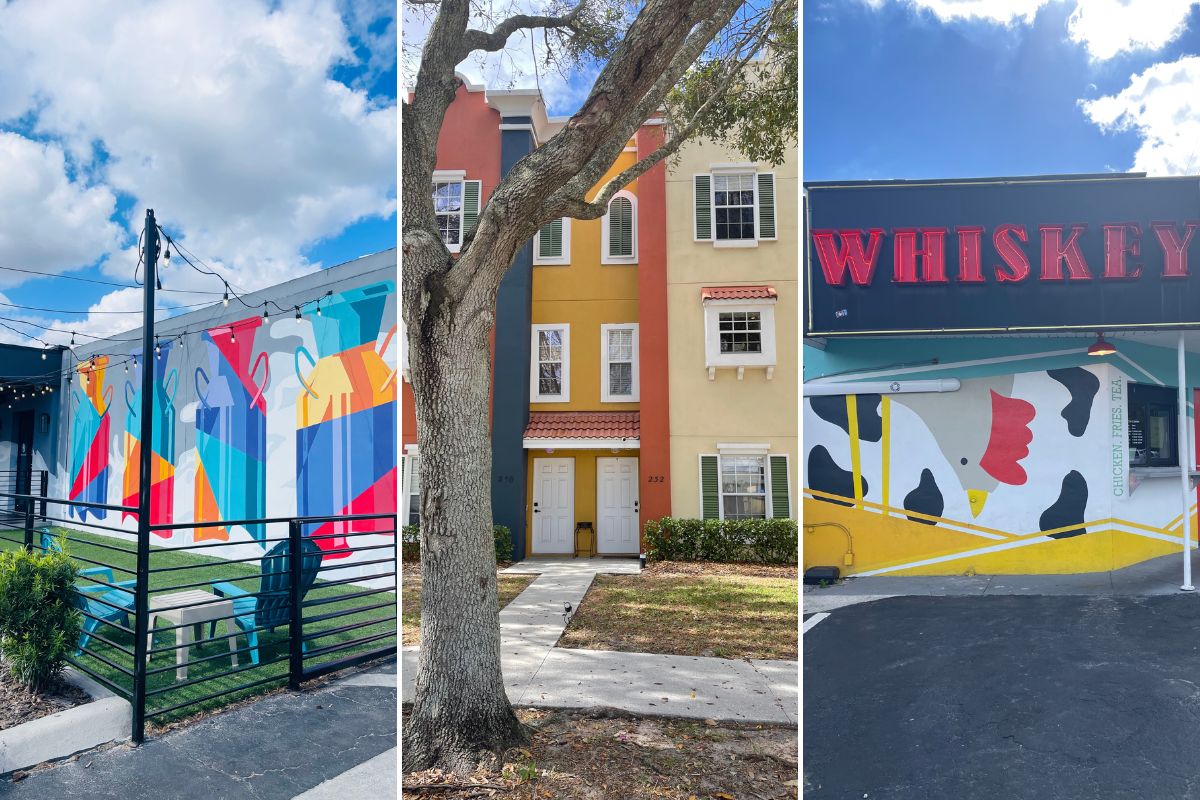 History of the Milk District Orlando
Orlando's Milk District has an interesting history which began in 1925. Nearly 100 years ago, a man named T.G. Lee, a Florida native, decided he wanted to create a dairy farm. T.G. Lee grew up selling sheep with his father. After the sheep were sold, the family opened a hardware store. Additionally, T.G. Lee's father became a citrus magnate in Florida. These businesses left Charles (Lee's father) with the means to give Lee twenty acres of land, a cow, and a banknote.
Lee and his wife were able to open up their dairy farm east of Orlando, a short distance from where the Orlando Municipal Airport would later appear.
Lee and his wife worked many long hours to build up their dairy farm and keep it running. After five years of hard work, Lee's company began building traction, and he eventually started acquiring other dairy companies in the area. By the 1930s, Lee had created an advanced Milking Parlour where guests could watch machines milking his cows. This parlour led to him being considered a visionary.
In 1955, Lee built a home office and dairy processing plant on Bumby Avenue. This plant was the inspiration for naming the community the Milk District in 2008. The milk plant remains at Bumby Avenue and is still a prominent producer of milk for Floridians.
For more neighborhood guides, check out these articles:
Milk District News
This Orlando neighborhood has exciting new businesses opening and a park in the works. A new pocket park will be built near downtown Orlando, offering a gateway to the Milk District. There is no opening date, as the park is still in the design phase. However, the Milk District has been requesting artists to send submissions for sculptures to be placed along the pathway.
Best Things to Do in the Milk District
The Milk District is an exciting place to explore, with plenty of things to do and many neighborhood events throughout the year. From new parks being built to large colorful murals, this Orlando community has much to offer.
Milk District Parks
Three parks lie within the Milk District community (not including the pocket park on the way). Below, you'll find details on each park in the neighborhood.
Cherry Tree Park
Cherry Tree Park is great for families, as it has a playground, grills, picnic tables, and pavilions. It's on the smaller side, so it's best for those with younger kids. Or for families who want to enjoy a BBQ meal out in nature. There are minimal walking paths here, so it's not ideal for hikers, walkers, or bikers.
Address: 2725 E Jackson Street, Orlando, FL 32803
Festival Park
This park offers a much larger space, covering 16 acres of land. Festival Park includes volleyball courts, trails for walking/biking/jogging, fitness stations, picnic tables, restrooms, and more. It's an ideal spot for those who enjoy staying active during the summer.
Address: 2911 East Robinson Street, Orlando, FL 32803
Colonel Joe Kittinger Park
This small park was built to honor those who served in the Vietnam War. To memorialize those in the war, a refurbished F-4 Phantom aircraft is on display in the park. This aircraft was used during the Vietnam War. A playground is also available at Colonel Joe Kittinger Park.
Address: 305 S Crystal Lake Dr, Orlando, FL 32803
Walking and Biking Trails in the Milk District
You'll find a few walking and biking trails within this community. As mentioned, Festival Park has some excellent trails to explore via bike or foot. Another route in the Milk District worth checking out is the Orlando Urban Trail. This trail is three miles long and paved. It runs from Lake Highland to Mead Garden.
Places to Eat in the Milk District
The Milk District is revered for its cuisine, with options ranging from vegan eats to street food dining experiences, funky coffee shops, and some of the best tacos. With the wide variety of restaurants available, there's something for everyone in the Milk District!
Below are some of the community's culinary offerings.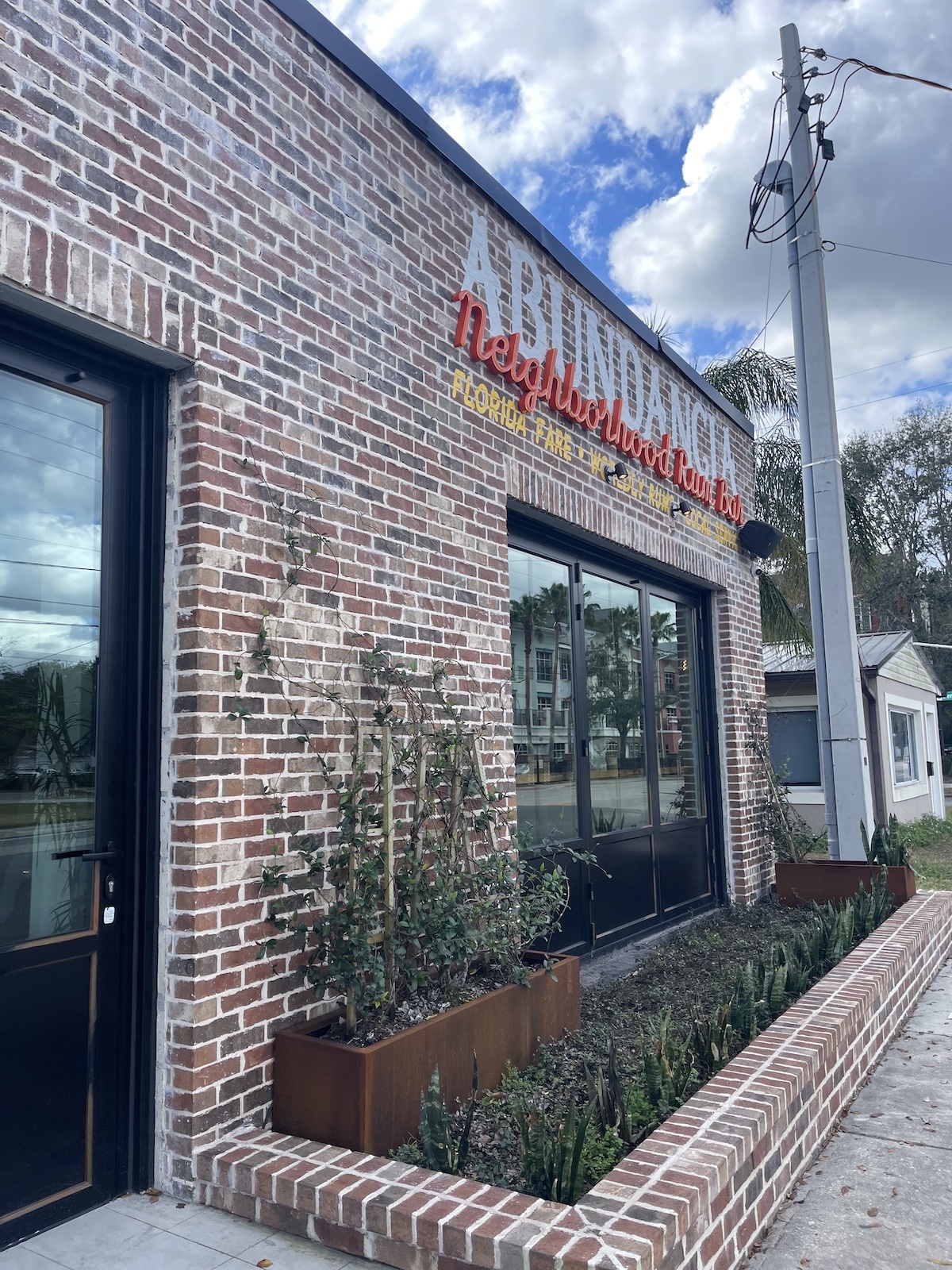 Otto's High Dive
A new bar recently opened in the Milk District in December 2022 – Otto's High Dive. This elegant bar features elevated cocktails in a hip environment. If you want to support a local business, you can stop by this rum bar between 4 pm and 12 am, Tuesday through Saturday.
Address: 2304 E Robinson St., Orlando, FL 32803
Bad As's Sandwiches
Bad As's Sandwiches is the spot for you if you're craving a gourmet sandwich! This sandwich shop serves delicious options at their counter in a fast, casual environment. All toppings for the sandwiches are made from scratch, and their customer service is top-tier. The menu includes fun options like Garfield, Big Boy, and Ninja. Expect toppings like Asian glazed pork belly and homemade thousand island dressing at this sandwich spot.
Address: 207 Primrose Dr, Orlando, FL 32803
Beefy King
Beefy King is another sandwich shop in the Milk District. This eatery has been serving tasty sandwiches since 1968. It's a family-owned joint with friendly customer service. Beefy King specializes in steamed roast beef sandwiches, which are a must-try while visiting the Orlando area.
Address: 424 N Bumby Ave, Orlando, FL 32803
Drunken Monkey Coffee Bar
This fun coffee bar features a Bohemian style of décor and vegetarian-friendly food selections. Vegan and gluten-free options are also available. The menu also includes fun coffee drinks, like the Mojo Jojo. Try out the Drunken Monkey Coffee Bar if you're in the mood for tasty breakfast and pastry options with a fun twist.
Address: 444 N Bumby Ave, Orlando, FL 32803
Il Pescatore
Il Pescatore is a small, family-run café serving authentic Italian cuisine. The inside of the restaurant is covered in scenes depicting Italy's beaches. The colors and atmosphere make you feel like you've traveled to Europe. You'll find pasta and pizza options on the menu, along with classic Italian desserts like tiramisu.
Address: 651 Primrose Dr, Orlando, FL 32803
Gringos Locos
Cheap, delicious, and addictive all describe Gringos Locos. This taco spot was rated #1 in multiple categories by The Best of Orlando 2021. This eatery is known for its tacos, nachos, and affordable prices. They're also open from 11 am to 3 am, so they're an excellent restaurant to visit after grabbing a drink at the local bars. Vegetarian options are available here, so it's a great spot for everyone.
Address: 2406 E Robinson St., Orlando, FL 32803
Pho Vinh
If you're craving Vietnamese food, Pho Vinh is a great option. This restaurant has delicious, authentic Vietnamese cuisine. The menu is quite extensive, so you'll find plenty of options to choose from. The beef pho and rice platter options are the top choices here.
Address: 657 Primrose Dr, Orlando, FL 32803
Pom Pom's Teahouse and Sandwicheria
This food joint is a funky, eclectic spot serving creative sandwiches. On the walls, you'll find various art pieces crafted by local artists. Pom Pom's Teahouse and Sandwicheria also serves delicious tea and milk tea options. Some top menu choices include Asian BBQ pulled pork and a colossal PB & J.
Address: 67 N Bumby Ave, Orlando, FL 32803
Where to Stay in the Milk District
There are various hotel accommodations available in and near the Milk District. The hotels in this area are generally trendy and mid to higher-end, including multiple Mariott locations, boutique hotels, and options by Hilton.
Below, you'll find some of the accommodations in the area.
AC Hotel by Mariott
The AC Hotel by Marriott features a trendy atmosphere, with rooms spread over eight floors. This hotel has 180 rooms, all with modern, European-style décor. Some amenities include multiple meeting spaces, a rooftop bar with panoramic views, and a fitness center. There's also a restaurant onsite and a convenience store.
Address: 333 S Garland Ave, Orlando, FL 32801
Aloft Orlando Downtown
If you're planning on staying in downtown Orlando, you may want to consider Aloft Orlando Downtown. This hip hotel is nearby many top attractions, including the Orlando City Stadium and the Amway Center. Each room at this hotel has many amenities to help make your stay more comfortable, including pillow-top beds, walk-in showers, and a desk area. Additional amenities include an onsite outdoor pool, fitness center, gift shop, and convenience store.
Address: 500 S Orange Ave, Orlando, FL 32801
Crowne Plaza Orlando Downtown
Those traveling to Orlando for business will find the Crowne Plaza Orlando Downtown a great choice. This hotel was created with business professionals in mind. There are eight meeting rooms and a business center with ample equipment to help you get your work done while on the go. Additional amenities include a pool and fitness center.
Address: 304 W Colonial Dr, Orlando, FL 32801
DoubleTree by Hilton Orlando Downtown
Like the other hotels in downtown Orlando, DoubleTree by Hilton is nearby many top attractions. It's also an ideal accommodation if you want to be able to conveniently reach the Universal Orlando or Walt Disney World Resort amusement parks. This hotel has free Wi-Fi, an onsite hotel, meeting rooms, a gym, a business center, and an outdoor pool.
Address: 60 S Ivanhoe Blvd, Orlando, FL 32804
EO Inn
EO Inn sits at the conjunction of Lake Eola and Thornton Park in a tucked-away section of downtown Orlando. This boutique hotel has a unique location, as it's in a 1920's building. A stay at this hotel includes complimentary breakfast each morning. You can also order a craft beer onsite at Persimmon Hollow Brewing Company. This hotel provides a unique stay in a beautifully renovated building.
Address: 227 N Eola Dr. B, Orlando, FL 32801
Grand Bohemian Hotel
The Grand Bohemian Hotel is a luxury accommodation in the heart of Orlando, FL. This hotel features views of Italian mosaics, incredible vaulted ceilings, and an onsite art gallery. An onsite restaurant is available, featuring delicious cuisine, cocktails, and live jazz music. There's also a spa and meeting space available here.
Address: 325 S Orange Ave, Orlando, FL 32801
Schools
Two schools are located in the Milk District, the Central Florida Leadership Academy, and the Super Kids Academy. Both schools are on the smaller side intentionally, ensuring teachers can focus on each student's needs. Additional schools are found in the surrounding areas, from elementary to high school.
Daycares
The Milk District is great for families, as it has many daycare offerings. Additional daycares are in the surrounding areas, including Orlando. Here are some of the daycare options in and near the Milk District.
Hospitals
While there are no hospitals directly in the Milk District, the number of nearby hospitals in Orlando more than make up for it. The hospitals are only about 6-10 minutes via car, making them easily accessible and convenient. Below, you'll find a few of the nearby hospital options.
Long-Term/Senior Care
A few assisted living and home health care options lie within the Milk District, with many additional long-term/senior care choices in nearby areas. Below are the options directly in the Milk District:
Local Grocery Stores in the Milk District
Some local grocery stores within the community are worth exploring, including The Farmacy and Stasio's Italian Deli & Market. You can find The Farmacy at local farmers markets or order their goods online; they do not have a visitable storefront. They focus on sourcing local products and groceries for purchase. Stasio's features Italian goodies imported from Italy.
Want to Find a Home in the Milk District?
With its culturally rich atmosphere, exciting events that help you bond with other community members, award-winning bars, restaurant offerings, and plenty of shops to check out, the Milk District is a great place to live for individuals, couples, and families. As an Orlando native and experienced real estate agent, I can help guide you to your ideal home within the Milk District Community. Contact me for more details.