Are you looking for ways to add color to your home decor? Infusing the color blue is an easy way. It creates a calming effect and a high-end design element. Regardless of the shade of blue, it can be achieved. Today I want to illustrate more specifics. Including chairs, stools, decor accents in darker to lighter hues. Let me know your favorite!
One way that you can add a pop of color into a room is by adding a darker blue oversized sofa. This is perfect in a room that has more neutral colors. It is eye-catching and instantly brightens any room.
Abstract art is most likely the easiest way to add color to a room with the least amount of risk. It allows you to quickly add minimal amount of color with the least amount of cost. There are so many affordable options, so finding a piece that you love should be easy. Some of my favorite locations are Home Goods and World Market.
You can use lighting as a way to add interest into a room. Lighting selections make a bold statement and are also easy to implement into your design. You can find options to go with any style of decor you have. Simply replace your lighting and change the whole feel of a room.
Another inexpensive option is to add an accent wall. This can make a huge impact in any sized space. This muted color shows multiple ways of layering blue on a wall. You can add texture onto the wall for more visual interest, or make the room feel larger by painting a specific wall.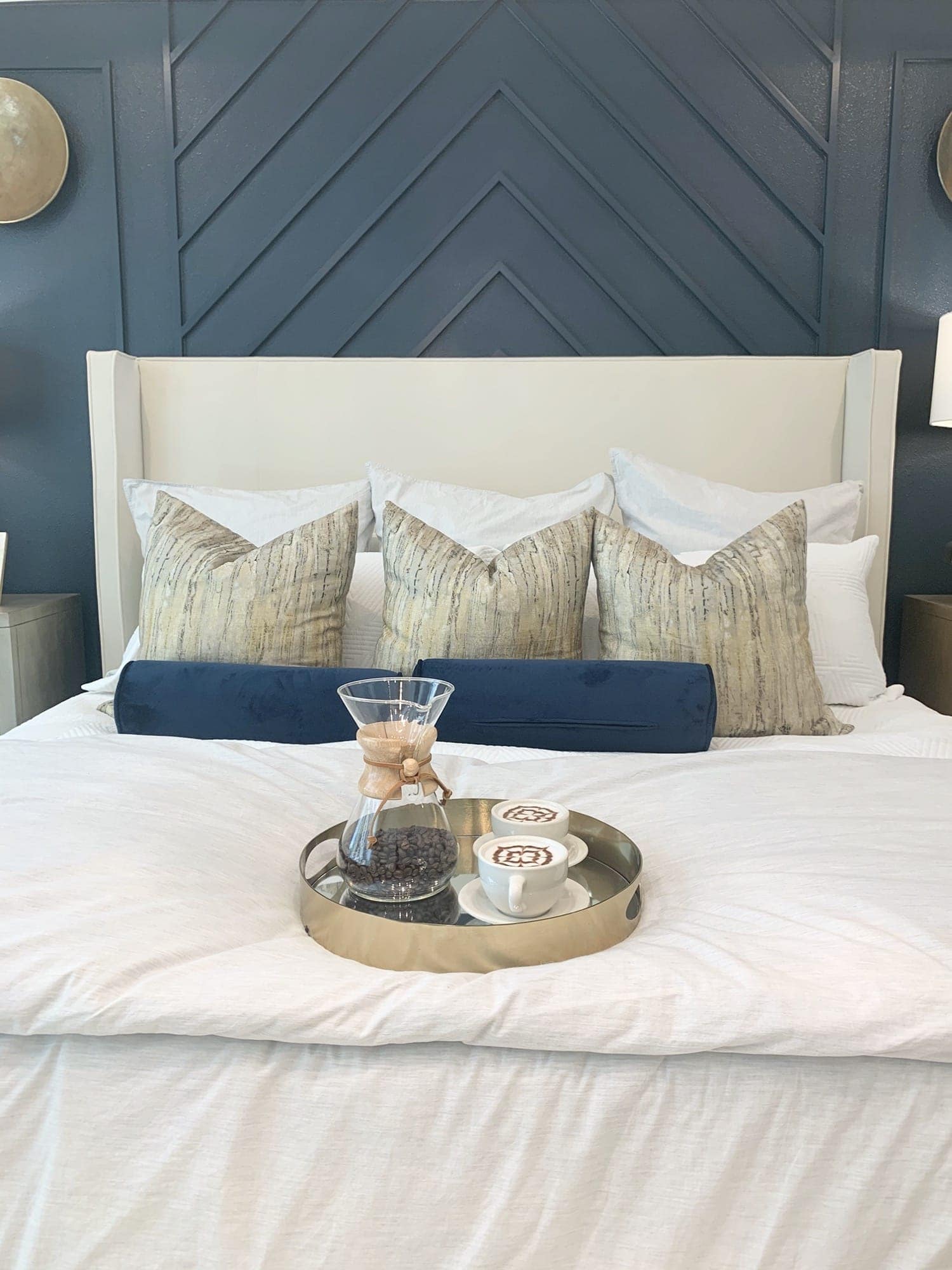 Changing your seating up can add color to any room in your home. Use bar stools with a navy color to add visual interest in a white kitchen. You can choose different fabric textures or finishes to add drama or simplicity to your space.
These blue and metallic chairs add texture and interest to an otherwise neutral toned room. This particular type of fabric elevates the casual eating space. Adding elegance and a visual element.
Happy decorating everyone! Hope you found these quick tips helpful and able to execute them in your own homes. Share your blue home decor to help others find more inspiration!