Undoubtedly during your home search, your realtor has asked you what types of homes you and your family might be interested in. They might have asked you if you thought of living in a condo, a single-family home, a mobile home, a townhouse, etc. Many wonder if purchasing a townhouse is an excellent real estate investment – the short answer is yes!
Townhouses, especially those within Orlando, have consistently evolved and gained more popularity throughout the years. The change of floor plan styles and architectural design choices started around 2014 when I saw floor plans that included grand foyers, oversized entries, split-level floor plans, first-floor primary bedrooms, pools, balconies, and much more!
Many of these luxury townhouses are new construction and part of a planned resort-style community, further adding to the appeal for new homeowners.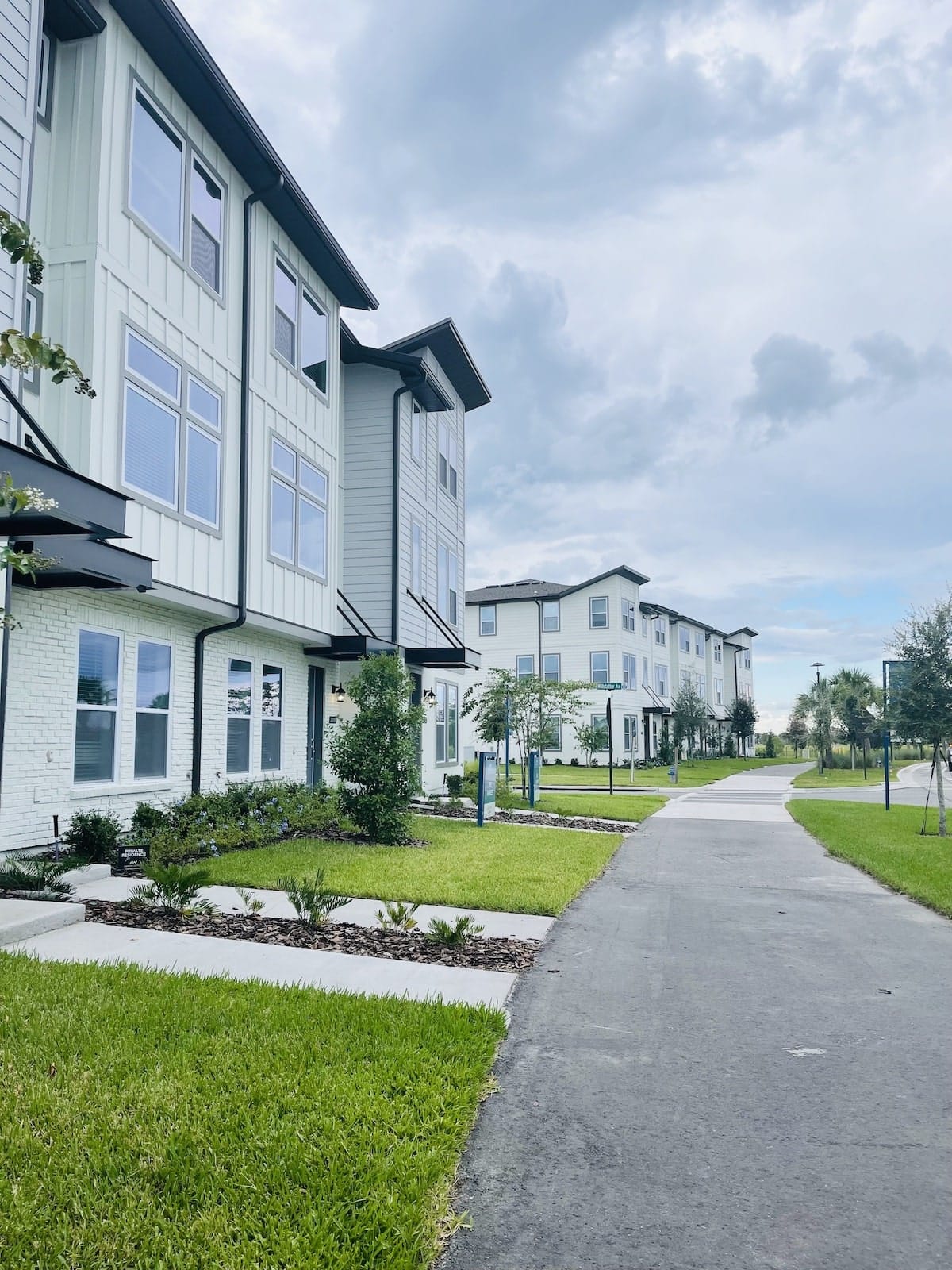 What are Townhouses?
If you're not already familiar with townhouses and what they are, you might wonder what the key differences are between townhouses and single-family homes.
A great definition of a townhouse is that you as the owner own both the structure and the land that the structure sits on, but the home is NOT freestanding, so you only own the land in the front and backyard (if there is any).
Townhouses are generally two to three stories in height and are found in close-knit townhome communities. Townhome owners generally look for standard amenities you wouldn't usually have in a single-family environment.
These amenities are paid for by monthly fees called HOA fees and include items such as fitness centers, tennis courts, pest control, and exterior maintenance. Not all townhomes have the same amenities, so if a specific luxury is more important to you than another, make that clear to your realtor.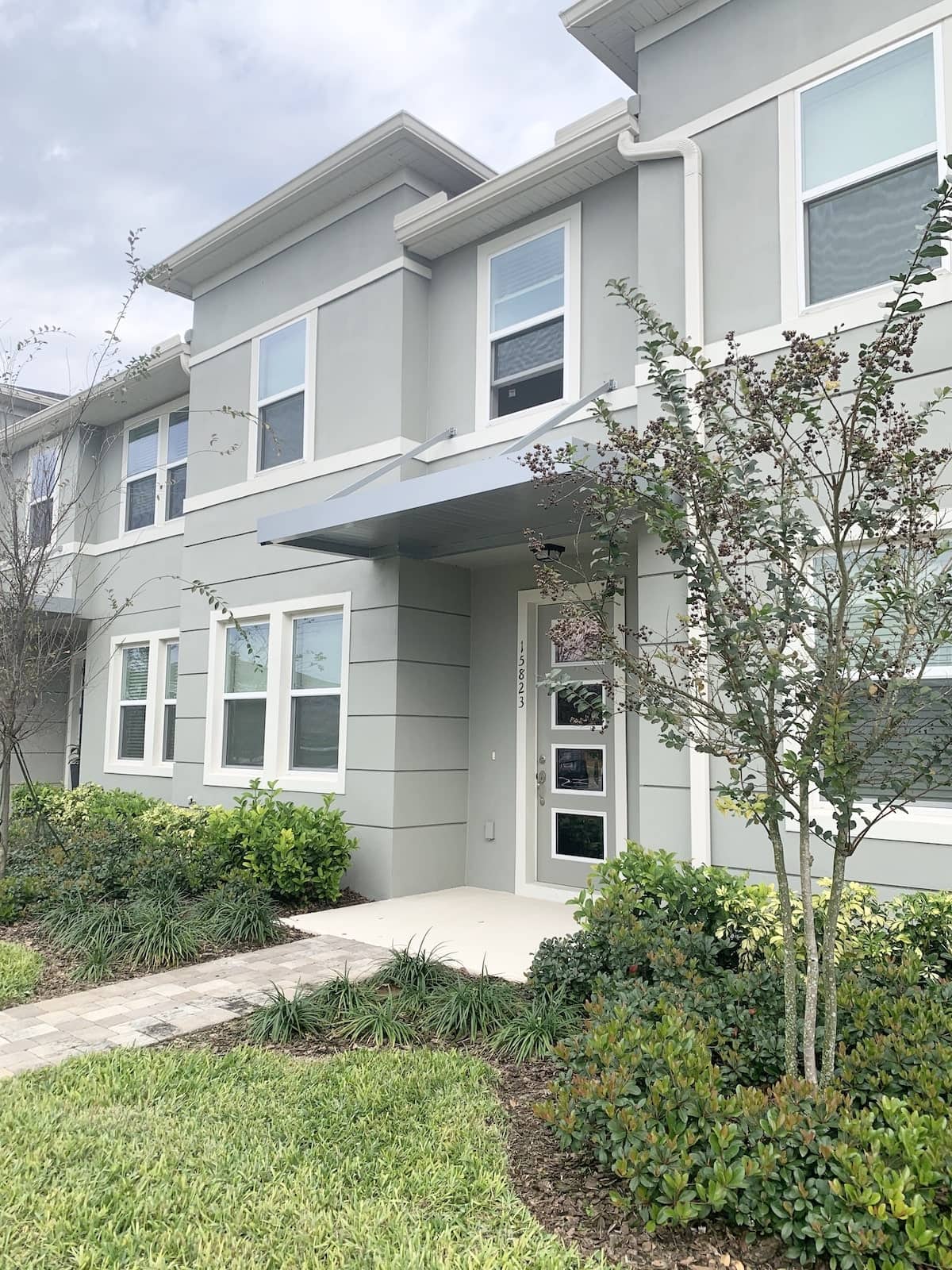 Key Differences Between Single-Family Homes and Townhouses
The difference between a typical single-family home and a townhouse comes down to how involved you as an owner are in the care of your property. A townhouse has its own entrance and maybe even its own basement, driveway or garage, and backyard, just like a standard single-family home.
Still, as a townhouse owner, you might not have to maintain these outdoor spaces depending on the homeowners association you belong to. Some HOAs assume the responsibility of lawn care and exterior maintenance, but not all do. You also will have neighbors nearby, including communal walls, unlike in the conventional single-family homes where houses are freestanding.
The Pros of Townhouse Living
Why should you choose to live in a townhouse over a single-family home? Some of the many pros to living in a townhome include the following:
Home Value Increase
The value increases faster than in single-family homes. The median price for both single-family and townhouses has increased over the last two years, with townhouses significantly benefiting from the increases.
Low Maintenance
Long gone are the days and weekends spent maintaining your curb appeal (depending on your specific HOA), mowing your lawn, cleaning off your roof, or planting flowers. These and many more regular maintenance activities are included in your monthly HOA fees and contracted out to a local property maintenance company to complete.
Lower insurance costs
While the decreased costs aren't huge, they are noticeable! Paying into your monthly HOA costs helps reduce the overall insurance costs when shared with multiple other units/townhouses.
Higher rental demand
This means you can use townhouses as a solid investment vehicle with a high demand for both short-term and long-term rental income – especially around major cities like Orlando, Miami, Fort Lauderdale, etc. Many townhouse owners utilize their properties as rentals on sites such as Airbnb or VRBO for short-term vacation rentals or rent them long-term on six-month to one-yard lease agreements, depending on what is allowed in the specific HOA.
Community amenities
Community amenities, as mentioned before, can be a huge driving factor and pro for those looking to purchase a townhome. Swimming pools, tennis courts, and an overall sense of community make living in this environment great for young families and retirees.
While these pros all sound great, there are some things to look out for and to consider when purchasing a townhouse that might draw your attention to a more traditional housing style.
The Cons of Townhouse Living
Some of the cons to owning a townhouse would include the following:
Shared walls and common spaces
Not all walls are made equal. Some older townhouses might have, for lack of better words, thinner walls. This can lead to noise from one home being heard in the neighboring home. When looking for a townhome, ask your realtor for information on sound dampening measures taken during construction.
HOA Rules
Following strict HOA rules can be a challenge for some homeowners. These rules can be very lenient to very strict, with some associations imposing rules around what type of flowers can be displayed at your front door and how old your car can be if parked in your driveway. Reading the rules and regulations of the HOA will be a significant first step if you're interested in purchasing a townhouse.
Small Yards
Small private outdoor spaces are common with townhouses. This means you will have access to a small patio or balcony and, in rare instances, a small yard space. If you're searching for a large yard where you can let your pets run free, a townhouse might not be the right choice for you.
Why You Should Invest in a Townhouse
Townhouses are the ideal property for a beginner investor. The great thing about townhomes is they are generally cheaper than most single-family homes, although this is not always the case, depending on the area.
If you find a townhouse priced lower than single-family homes in the area, this will equal out to be a lower-risk investment for you as the property owner.
Investing in a townhouse is a great way to diversify your investments if you want to experience single-family homes without the high maintenance of a house.
You could offer potential tenants more amenities than you could if you were to rent out a single-family home in more urban areas that renters are seeking out. Rates are often more affordable when purchasing a townhouse, depending on the right lending option for your situation.
The resale value of townhomes tends to be higher than that of single-family homes due to the many amenities offered and the lower property tax rate that townhouse owners enjoy.
All of the above-mentioned items and much more contribute to making a townhouse investment a wise option for many real estate investors in the greater Orlando area.
Is Buying a Townhouse Right for You?
A townhouse can be a great option for first-time homebuyers, young on-the-go families, retirees, or those looking for a low-maintenance home. However, a townhouse may not be the best option if you want more privacy and overall control over your home.
Ultimately only you can decide if a townhouse fits your lifestyle. Partnering with an experienced real estate agent will make all the difference as they provide you with guidance toward finding your dream home, whether that's a townhouse or a single-family home.
If buying a townhouse sounds like the right option for you and your family in this real estate market or as an investment property to be rented out, please don't hesitate to reach out. I have years of knowledge and skill working with townhouses around Orlando and can point you in the right direction as you begin your search for your next home.