Utilizing Instagram stories to connect with your audience and cultivate trust is a fantastic idea. Today, you'll find some clever strategies for taking your storytelling prowess to the next level. Keep scrolling if you're interested in learning more about Instagram Story ideas for real estate agents!
Real Estate Marketing on Instagram
Since launching my Instagram profile in 2014, I have been tinkering with various features on the platform. Some folks may find these alterations unsettling; however, I embrace them and relish the challenge of creating something fresh!
The arrival of stories was an exciting development for me as it provided a way to showcase more details about real estate processes and tips, along with increasing engagement levels. Utilizing this feature-rich opportunity has allowed me to experiment with new ways to interactively engage potential customers or clients from across the globe – yielding positive results thus far!
In this Instagram guide, I will show you how to add stories to your real estate account and how to use them to increase your conversions and grow your business. If you are not using Instagram Stories, I strongly urge you to start today!
How to Create an Instagram Story
Creating an Instagram story is easy but will usually only last 24 hours before Instagram archives them. However, they are fantastic for growth and lead generation, not to mention converting potential clients into brand-new homeowners!
Open Instagram and tap on your profile picture.
Choose any filter you may want but keep in mind your branding. You'll want to remain consistent.
Capture a photo or video (perfect for a quick tour of a home or to emphasize a specific feature)!
You can skip capture and go to your gallery to choose an image or video.
Next, you can add stickers, time stamps, or even a GIF to your Story.
Once you're done, tap "Your Story," and boom, you're done. Now share it with your followers to get the word out.
Real Estate Instagram Story Ideas
Here are a few more you can add to your list of creative Instagram Story ideas and themes to make your Instagram account stand out!
Buying and Selling Tips
Real estate agents are now turning to Instagram Stories to offer their clients advice and tips on buying and selling their homes. This new trend allows agents to share short video clips, photos, and text that can provide helpful information in an engaging way. Stories are an effective way for agents to ensure their clients are well-informed and can make the best decisions when buying or selling a home.
Home Trends
Educate homeowners and potential buyers by giving them an in-depth look at floor plans, kitchen appliances, flooring, and other home products without ever having to leave their homes.
Client Testimonials
Real estate agents can use Instagram stories to show potential buyers a more personal side of the business. This could include testimonials from previous buyers, images of happy buyers, and even a virtual "Sold" sign when a property is purchased. It's a great way to show the human side of the business and make potential buyers feel more comfortable and confident about their purchase.
Real Estate Market News
Agents can post daily updates on the market, including mortgage rules, housing market updates, trending topics, or other hot topics in the real estate industry. It's a great way to keep your followers engaged and informed while boosting your brand's visibility. Furthermore, it is an effective way to reach a wider audience, as Instagram stories are widely shared across different platforms.
This is an excellent time for collaboration and sharing a mortgage market update with your trusted lender!
Decor Ideas
Share decorating tips with your potential clients to help prepare their homes for the real estate market. Or to help new homeowners make their new homes feel like their own! This is a great way to build a personal connection with your audience and show your expertise in making homes look amazing.
These stories get more shares and engagement. They often look for home staging ideas or even a new home.
Open House Behind-the-Scenes
This can be a unique way to create content, so they get to know you and get an idea of how you could represent their home in a sale. This can be done by having a "Behind-the-Scenes" video of an open house that's just been completed. This will let them see how you and your team work together and give a sneak peek of what to expect when they come for an open house. This can also be used as a marketing tool to generate leads or interest in an upcoming open house.
Add this to your Seller Highlights for marketing for future listings!
Sneak Peak of New Listings
These are perfect for instant promotions; they give your followers a quick look!
Before and After
If you specialize in new construction homes, you can show the before and after of the entire building process. From a visual standpoint, this shows that the home is brand new and using the best materials.
Be Funny
Everyone loves a good laugh, but don't take yourself seriously. Tell some Real Estate jokes or funny stories about your business. Your clients will love you more for this.
Home Tours
Show the interior design of your listings, preview upcoming construction models, and even announce open houses. Instagram Stories can be a great way to keep potential buyers interested in a property, as they can get an immersive visual experience and better understand what it would be like to live there.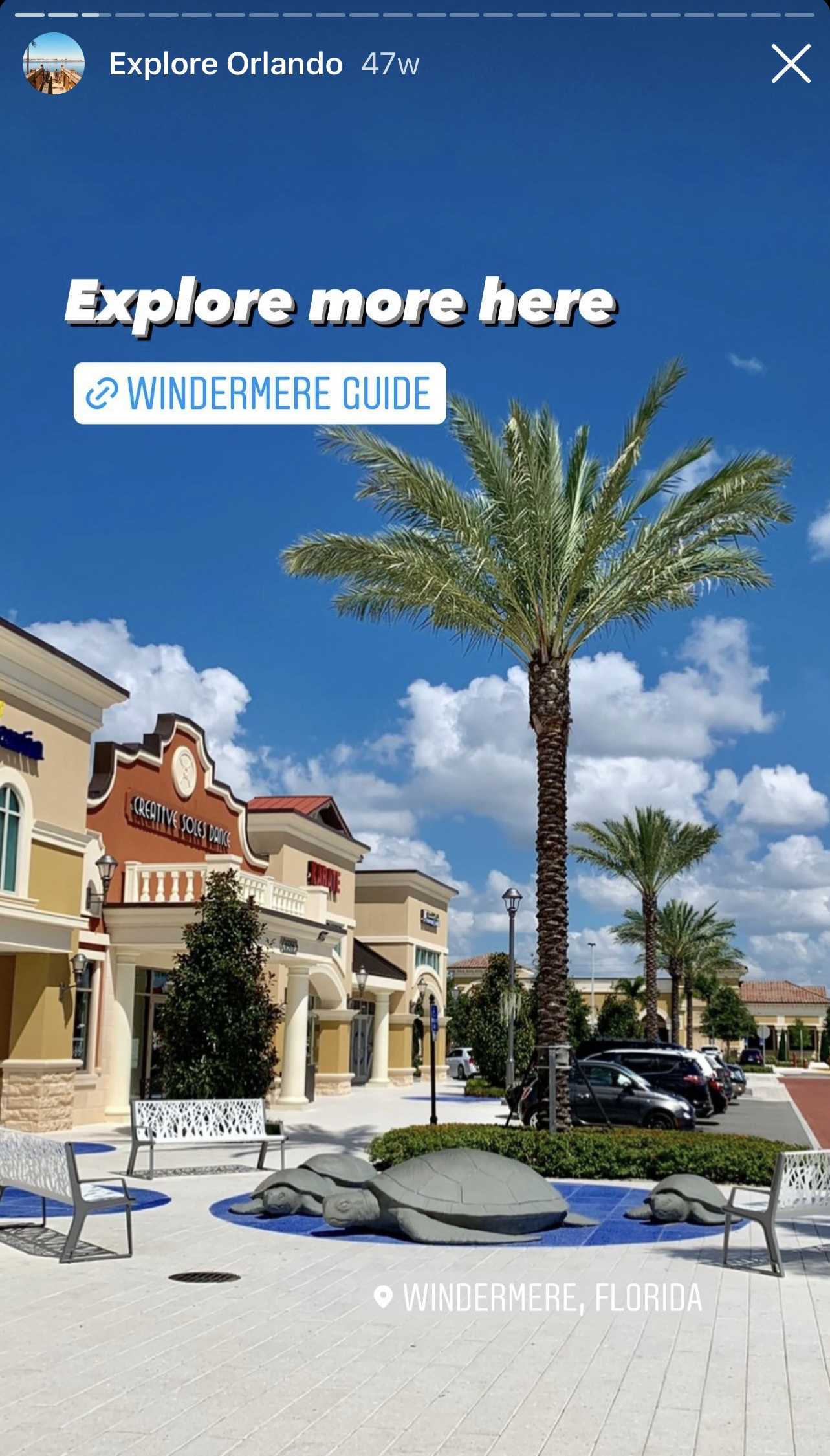 Neighborhood Guide and Community Spotlights
Give your followers an idea of your area and how awesome it is to live there. You can even promote small businesses. Take this opportunity to add a link back to a blog post on your website!
Specialty
Give your followers an idea of what type of real estate you specialize in. This will help new potential buyers or those relocating find the right real estate business, showcasing you as an expert.
Answer Your Most Frequently Asked Questions
Through these stories, you can quickly and efficiently answer questions about your listings and keep followers informed about the latest developments in the real estate market.
My Most Successful Instagram Stories
Now that you understand how to do it, let's discuss some of my best Instagram Stories:
1. Prepping for a new listing
Prepping for a new listing and want to get potential home buyers excited that something maybe hit the market soon. Show the process of the improvements the seller has made to the property.
Most times, these are the things we will include in a listing description to share for all of the real estate portals and marketing pieces. Well, this is a visual story to show the process of painting the home.
This one was pretty simple. Take a quick photo and video documenting the process.
Show it in stages from beginning to end. Maybe add a video of your favorite paint vendor and have them share some of their best tips for painting a home. You want to include each story with a location and a hashtag.
You also want to include the painter's company name and @PaintCompany as examples.
This kind of story not only gets likes, shares, and comments, but it also expands your network by geotagging (farming that area), engages the existing audience of your paint vendor, and allows others thinking of selling their home to call you in that specific area.
Most people prepare before deciding who to select as their real estate agent. This puts you in front of the pack by connecting to them first.
2. Work with relocation buyers
Tell the story of the process and share how you helped them. Another story Idea with this same theme is to include a short video testimonial of the happy clients! Don't forget to include a location and one hashtag to connect your ideal buyers who may make a move to your area.
They want to see how the process would go for them. Making a move can be stressful, but this gives them confirmation you are the best choice to help them with the same process.
This story is all about working with relocation buyers. I wanted to document the entire process and share how much detail I put into it.
Let's take a look: From start to finish, this story covers everything that could possibly go wrong when buying a home and includes tips for avoiding these pitfalls.
Pro Tip: In addition, I geotag each location with the hashtag #RelocationHomes so potential buyers can find me no matter where they are in the world!
3. Introduce your team
Introducing your team is a fun interactive way to connect to potential buyers and sellers.
You've created your first Story and already have the edge over others in the market who haven't leveraged the use of Instagram in their real estate work.
Remember, 58% of users are more interested in your real estate brand once they see your Story! Stories will also empower your engagement and help you "keep it real," as there's less pressure to be perfect. They'll also reinforce your promotions and brand.
It is also only available for 24 hours, so if you share information you do not want there forever, this is the perfect place to share! But if you love the story and want to save it… Highlights are a great way to keep it on your Instagram profile!
Pro Tip: When you start getting engagement from your stories, save them for future growth to add them to your Highlights. Don't forget you can use an Instagram Story template.
4. Staging tips for sellers
Real estate sellers looking to maximize the impact of their Instagram stories can share some staging tips to attract potential seller clients.
This can also be a great networking opportunity for stagers in your local area. Professional stagers recommend de-cluttering, using neutral colors to create a soothing aesthetic, and swapping outdated furniture for more modern pieces. This can help create a streamlined, appealing look and make potential buyers more interested in the property.
Additionally, sellers should take advantage of the interactive features available on Instagram stories, such as polls and question boxes, to engage followers and ensure that their content stands out.
Benefits of Resharing Popular Posts and Stories
Reposting or resharing is an excellent way to boost your engagement, and it will increase your following as well. One thing to consider is giving credit where credit is due in the case of customer-created content. According to Instagram, your engagement will increase by 28% when a user interacts with brand messages and user-generated content.
There are many more, so feel free to experiment with ones that fit your brand. Keep it unique so you stand out amongst the others.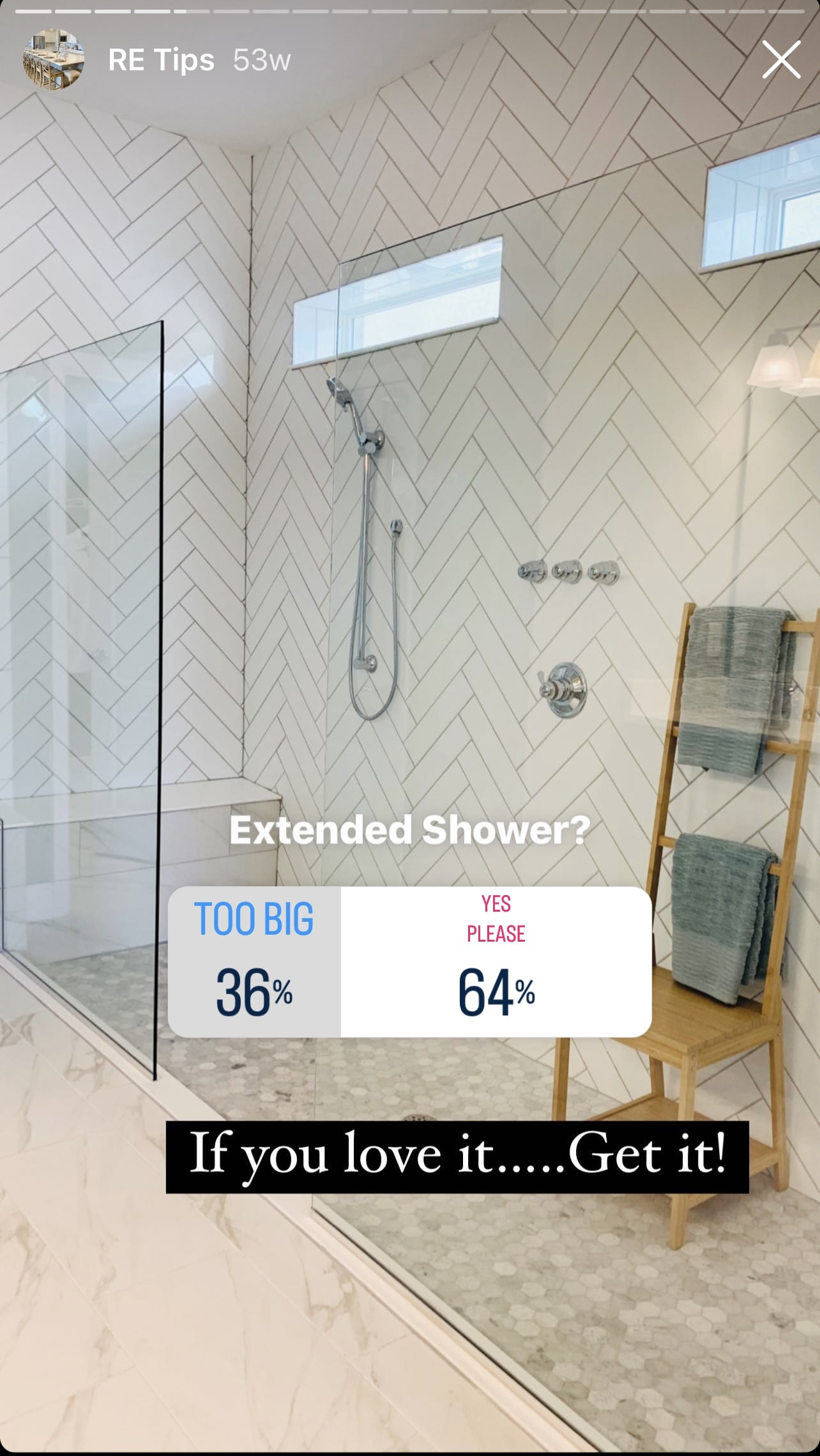 Maximizing Your Engagement
To maximize engagement, one of the most essential things when posting on Instagram is keeping yourself real and relatable. Authenticity is critical as it builds trust in you and your brand.
Another thing to consider is partnering with local area businesses and organizations and giving them honest and genuine support.
Be the storyteller they need! This can be done in your images, short videos, music, and captions, as it helps bring in those authentic connections and makes you relatable.
Once you have stories done and want to increase engagement in other creative ways, try the Story Stickers like polls, quizzes, and ask a question, and support small business links to expand your reach.
Pro Tip: The results of using Instagram Stories are increased growth, engagement, and overall conversion. It'll maximize your connections on a personal and professional basis with businesses and clients. Real Estate is an intriguing business that many people find fascinating.
Real Estate Instagram Stories FAQs
Here are some of the most asked questions by agents on how to grow their Instagram followers or ideal clients.
1. Do stories help to grow my followers?
Yes. They help your ideal client in specific locations find you! When you properly use Instagram with locations and a hashtag, it helps the Instagram algorithm work for YOU and your followers.
2. Can I get clients from Instagram Stories?
Yes. That is why it is important to engage your stories daily. Clients are looking for you on Instagram, similar to google. They want a specific person in their area to help them navigate through this process or help them understand an area. When clients view you as a community expert, the sky is the limit.
3. Can it increase my blog or website traffic on a specific topic?
Yes. You can start your storytelling in stories and move your followers to your blog or website to provide even more details about a topic. (Ie. First Time Buyers Info. Tips on Selling Their Home, Community Events, etc., by including a link in your stories. This is now available for everyone regardless of your follower count.
Bottom Line
Mastering Instagram as a real estate agent takes time, but it can be fun as you build your followers and client lists. Instagram is one of the most powerful tools for real estate marketing you can use in your career. It is a significant key to your current and future success. Use Instagram to build relationships with your followers and increase your marketing strategy efforts.
Let them know that they can trust you and that you're likable. Show them you care, and becoming active on the platform is one of the most effective ways to do this. Consider this… Your brand is a set of memories and stories. They are a story of a client's decision to choose you over another when buying or selling their home. Connections are essential to your continued success; continual engagement will get you there.
P. S. Read about my tips for Pinterest marketing for real estate agents too!