Design your swimming pool with a beautiful water feature that turns your backyard into a tranquil and elegant oasis. Picture yourself after a long day at work, slipping off your shoes and sliding open the door to the backyard. You take a deep breath and the soothing sound of water melts away the stresses of the day. You're home.

You're not just "putting in a pool". You're creating a backyard oasis. A place to shut off the world and enjoy your family and friends or just some quiet time, alone. There's something about the sound of water that's soothing and there is a way to add that to your outdoor space. With a beautiful water feature that creates that soothing sound.
There are too many options to list, but I scrolled through my iphone and chose five of my favorites from homes right here in Orlando. All you need in your imagination. So you'll know how to ask for what you want by name, here they are a few:
1. bubblers
Just like it says, this bubbling water feature, also called pool gushers, comes up from out of the water and makes a bubbling sound. You need a shallow shelf or step and it's like having a mini-fountain in your pool. You can make the nights magical by adding lights.
2. curtain rain wall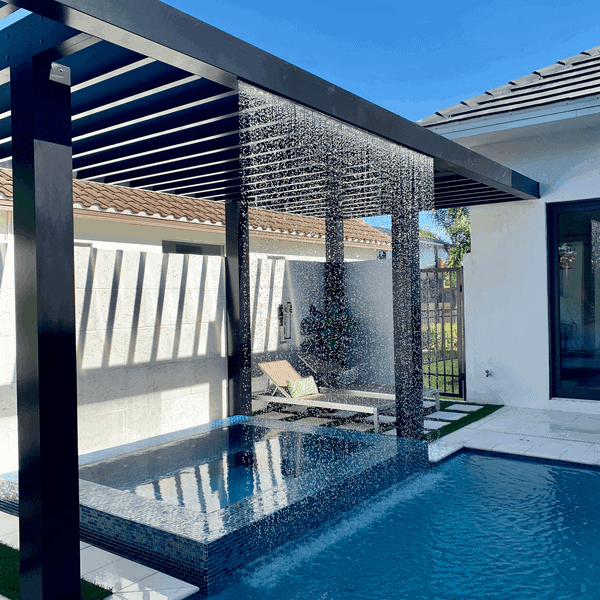 Isn't that elegant? Adding a rain curtain or rain wall gives you both the sound & the illusion of a wall of rain.
A freestanding structure like a pergola is a perfect place for this water feature that transforms your backyard into the oasis you've been dreaming of.
3. Sheer Descent waterfall
Add another soothing sound to your backyard paradise with a sheer descent waterfall that creates a clear arc of water.
Adjust to suit your mood. In a quiet mood? Choose a silent, glass-like sheet of water. Have a family gathering with lots of activity choose the rushing mountain waterfall.
4. scuppers
Beautiful and functional. Scuppers are slots or spouts typically from a raised ledge or wall from which water flows into your pool.
This water feature also has a practical function also…bringing water from another section into the pool. Have a spa? it helps circulate the water and keeping it fresh. They also help control the flow of water helping to maintain the right water level.
5. water fountain bowls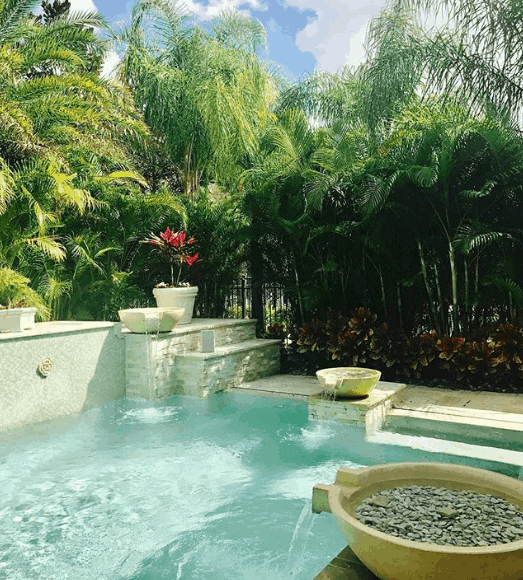 These are gorgeous also. A great way to make your swimming pool stand out is with a beautiful piece of fountain artwork. From hammered copper or natural stone be sure to choose the style, shape and color that complements your style and creates a space you can't get enough of. .
Living in Orlando, we get to enjoy our pools year round (think heated pools). You might as well design add a water feature to create a beautiful outdoor escape. Looking for a home with a swimming pool? I'm Nicole Mickle and whether you want a new construction or existing home, I'd love to hear from you about exactly what you're looking for.